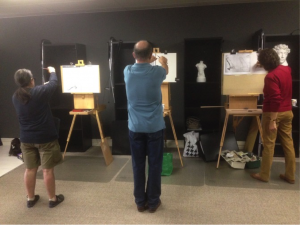 The curriculum
Levels
A Level is a group of subjects. Levels, and the subjects within them, are arranged according to their difficulty or complexity. A Level provides a stage of learning, preparing the student for the next Level. The atelier curriculum is divided into 4 Levels, numbered 1 – 4. They are completed in that order. Levels are organised from simple to complex, with student directed learning being a feature of Level 4 (see Flow Chart). Higher Levels progressively synthesise knowledge and skills taught in lower Levels, equipping students to become capable, confident realist artists.
Subjects
A Subject is one aspect of classical realism, studied through focussed, practical exercises and learning tasks, designed to introduce topics, teach skills, and impart knowledge. While individual Subjects are innately interesting, each Subject forms a link in a sequence, leading to more complex levels of learning and performance. Subjects are situated and encountered where they best serve student needs. Their position in the curriculum is based on level of difficulty, and suitability as a vehicle to advance skills and knowledge. Once begun, each Subject must be successfully completed before moving on to the next. This ensures proficiency, raising awareness of the benefits of concentrated study.
Flowchart
(click to enlarge)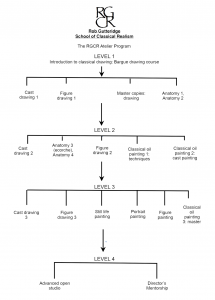 A new way of studying
Students enrol in 1 subject at a time.
The reasons for this are: atelier schools take the entire process of classical painting and drawing apart. At RGCR each part becomes a Subject. Each Subject deserves individual attention through focussed study. And Subjects are integrated back into the program through their placement in the Levels. Some Subjects are prerequisites for others, so that simpler tasks lay the foundation for more complex tasks. Subjects cannot be studied in any order. They are integrated into a coherent plan with a specific purpose: how best to teach, equip and enable students to make realistic drawings and paintings to a high standard.
Flexible study
A student remains enrolled in a subject until it is completed. Study can be undertaken any time through the year. Students only enrol when, and for how long they they want. This makes study flexible, tailored to fit their schedule. If a gap in study occurs, and the subject has not been completed, a student re-enrols in the same subject until it is completed.
Extension exercises
Students completing the requirements for a Subject may continue studying it indefinitely through extension exercises or self directed study. Some will find the content particularly appealing and want to make it a focus of their artistic development.
Prerequisites
What are the prerequisites for moving through the program?
See the Flow Chart in conjunction with the following information.
Levels must be completed in the order 1 – 4. Each Level is a prerequisite for the next.
A subject that is a prerequisite must be completed before moving on to another subject.
The first prerequisite for all subjects is Introduction to classical drawing: Bargue drawing course. Completing this gives students access to the atelier program.
Prerequisites and concurrent study for Figure Drawing and Figure Painting Subjects
Figure Drawing and Figure Painting Weekdays 2-5pm

Saturday 10-1pm

Prerequisite
Concurrent Subjects

Weekdays 10am-1pm

Figure Drawing 1

Introduction to Classical Drawing

Cast Drawing 1, Master Copies: Drawing, Anatomy 1,2

Figure Drawing 2

Level 1

Cast Drawing 2, Anatomy 3

é

corch

é, Anatomy 4, Classical Oil Painting 1,2

Figure Drawing 3

Portrait Painting

Figure Painting

Level 2

Cast Drawing 3, Still Life Painting,

Classical oil painting 3: master copies

Advanced Open Studio

Level 3

–
Study options
RGCR teaching program schedule
Refer to the Timetable page for details.
Working at a station
A workstation is necessary for some subjects. It is a shelving unit that contains a light box for cast and still life drawing and painting, and a storage shelf where students can keep materials and paper during the session. Depending on student numbers, workstations may be shared. Taped guides are used if anything needs moving, such as when more than one student works at the same station on different days and with different casts or still life setups. As the school approaches capacity, students enrolling in 0.5 days, or full days + 0.5 days, need to check with the administrator that a station is available for the duration of their enrolment period. This is done at enrolment.
Subjects requiring a station
Cast Drawing 1, 2, 3
Classical Oil Painting 1, 2
Still Life Painting